- Winstar Boulevard Highway Walls -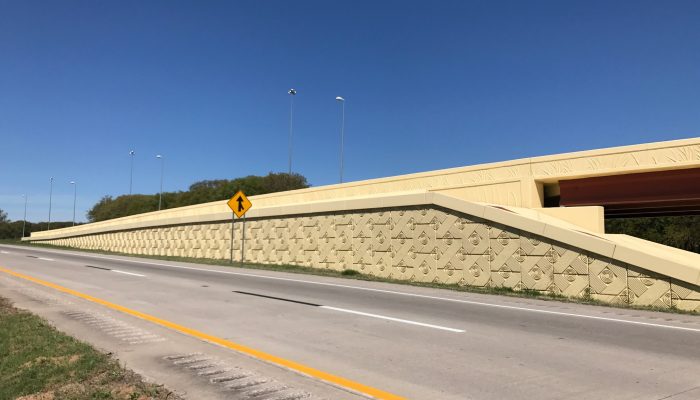 Winstar Boulevard Bridge
Location. Love County, Oklahoma.
Form Liner Type. Costum
Additional Services: Decorative staining
Year of Completion.  2014
Project Impact. The Winstar Boulevard Bridge serves as a gateway to the Winstar Casino. The bridge provided an opportunity to bring greater access to the facilities and also serves as a frontage road for the Interstate.The nation estimates 7,200 vehicles use the ramps each day(4).
Features & Design Context. Steven Weitzman created a new bridge design that showcases both ancient Chickasaw nature symbolism and imagery from the Oklahoma landscape today. Weitzman created an original concrete form liner pattern inspired by ancient Chickasaw iconography for the MSE wall that runs parallel to the bridge.
Techniques & Requirements. Creative Form Liners fabricated the custom patterns, as well as the custom urethane-rubber form liners for the MSE walls and custom grass patterns and urethane-rubber form liners for the wing walls.
Stakeholders. The Chickasaw Nation, Oklahoma Department of Transportation
Testimonials. "Through our relationship with Creative Form Liners Inc., we have been able to actively consider expanding the use of decorative form liners on our transportation system with relative ease." Gary Ridley, Secretary of Transportation (Oklahoma Department of Transportation).