- I-35 / Main Street Bridge -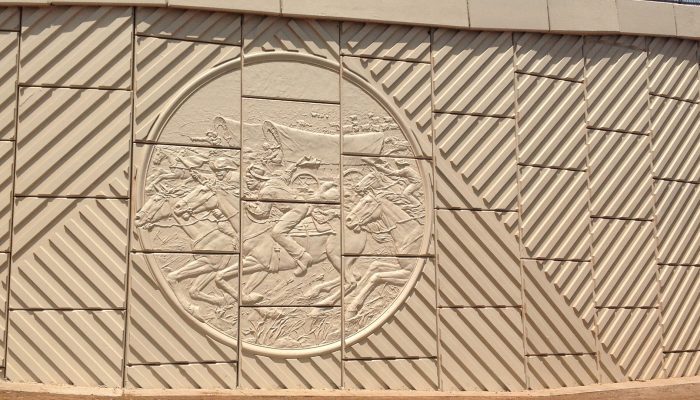 Location. Norman, Oklahoma.
Form Liner Type. Custom
Year of Completion.  2014
Project Impact.  By widening the I-35 Corridor, Oklahoma DOT and the City of Norman desired to improve traffic capacity while integrating the bridges into the surrounding natural environment, encourage safety along this highway corridor by introducing additional pedestrian amenities, and promote community identity through the implementation of aesthetics for a series of transportation enhancements.
Features & Design Context. A dramatic fifteen-foot representational bas-relief in the shape of a medallion depicts the Land Run of 1889, a scene featuring multiple figures on horses in full gallop followed by people in covered wagons.  As the gateway bridge into the city, planter beds feature text welcoming visitors to the city on one side, and proclaiming on the other side "'We Belong to the Land' – Oklahoma!"
Requirements & Techniques.
We crafted the form-liners so that the dynamic action depicted in CDR's design was accurately represented and that the intricate details would be visible to travelers on the interstate driving at speeds of 65 mph.
Creative Form Liners incorporates many processes to create the custom decorative patterns that are used to cast our elastomeric/urethane-rubber form liners. This sculptural relief relied on our expert traditional sculpting techniques, which sets us apart in the field.
The custom decorative pattern for this bas-relief was first hand sculpted at a maximum 1 ½" relief by our team of artisans, ensuring that all aspects of the relief would register exactly.
Once the custom MSE-wall form liners were fabricated from the patterns, the MSE-concrete panels were used by the precast concrete form-liner company, Reinforced Earth Company.
Creative Form Liners fabricated the MSE-wall form liners for the diagonal six-inch fluted-rib textured pattern that spans the MSE walls and frames the Land Run Medallions. These decorative concrete wall forms represent the flexibility that using modular form liners offers by allowing designer(s) the opportunity to configure concrete patterns to create dynamic and site-specific designs.
Stakeholders. Oklahoma Department of Transportation, City of Norman (Oklahoma), Oklahoma Historical Society
Publications. Aspire Magazine, Fall 2013
Testimonials.  "You have provided ODOT with initial design concepts, helped us through the community involvement process, worked closely with our highway contractors, and provided us with a high-quality product in a timely manner that adds value to the end product that can't be achieved in any other way." Gary Ridley, Secretary of Transportation (Oklahoma Department of Transportation).  
Media.

The Norman Transcript. (2013, September 22). Main Street interchange topic at luncheon [Press release]. Retrieved February 26, 2017, from http://www.normantranscript.com/
Aspire Magazine, Project. (2013, October). Interstate 35 Corridor. Eight consecutive I-35 bridge designs showcase Oklahoma's history [Press release]. Retrieved February 26, 2017, from http://aspirebridge.com/