- I-630/I-430 Interchange/ The Big Rock Interchange MSE Walls -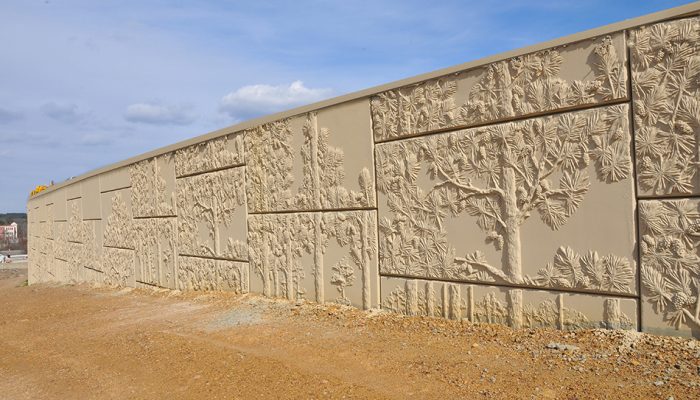 Little Rock, Arkansas
Form Liner Type. Custom
Year of Completion. 2013
Project Impact. Responding to an increase in traffic along the I-630/I-430 interchange since its construction in 1975, Arkansas State Highway and Transportation Department enacted a $150 million-dollar highway improvement plan that included a lane expansion, a bridge extension, and multiple flyovers.
Features & Design Context. Aesthetic infrastructure design firm, Creative Design Resolutions, Inc. was approached by Bridgefarmer & Associates, Inc to create culturally-specific aesthetic designs for the massive highway project. Creative Design Resolutions, Inc. designed parapet, flyover piers, and MSE wall designs that were inspired by the state's tree, the Loblolly Pine. For the project, CFL handcrafted the representational and intricately detailed Loblolly Pine "forest" featured on the highways' MSE walls.
Techniques & Requirements.

The patterns were handcrafted with a maximum two-inch relief.
The form liners were cast using high-quality elastomeric/urethane rubber, each capable of producing up to fifty concrete patterns.

Awards
         Consulting Engineering Firm: Bridgefarmer & Associates, Inc.
         Aesthetic Infrastructure Design Firm. Creative Design Resolutions, Inc.
         Contractor. Weaver-Bailey Contractors; Kiewet Southern Co.; Manhattan Road & Bridge Co.